Exchanging Cultural Awareness
Focus on international contemporary dramaturgy on the slopes of mount Vesuvius
in collaboration with Goethe-Institut Neapel and Österreichischen Kulturforums Rom
curated by Sabine Heymann, Maria Carmen Morese, Giulio Baffi, Claudio di Palma

During the second edition of Racconti per Ricominciare theatre festival, we started a fruitful cooperation with Goethe-Institut in Naples in order to promote German contemporary dramaturgy in the south of Italy.
This turned out to be an extraordinary experience of cultural exchange: thanks to the precious advice of Maria Carmen Morese, director of the Goethe-Institut Neapel, we selected four short stories by the German author Judith Schalanski and we staged them in the lovely orchards of Villa delle Ginestre, the last residence of the great poet Giacomo Leopardi, a XVIII century mansion which extends over the slopes of Mount Vesuvius.
After this first successful cooperation, we started a new creative process together with Goethe-Institut and with Sabine Heymann, German journalist and theater critic. She translated in German many important Italian playwrights and currently works as artistic consultant in a large number of international theatre festivals in Europe.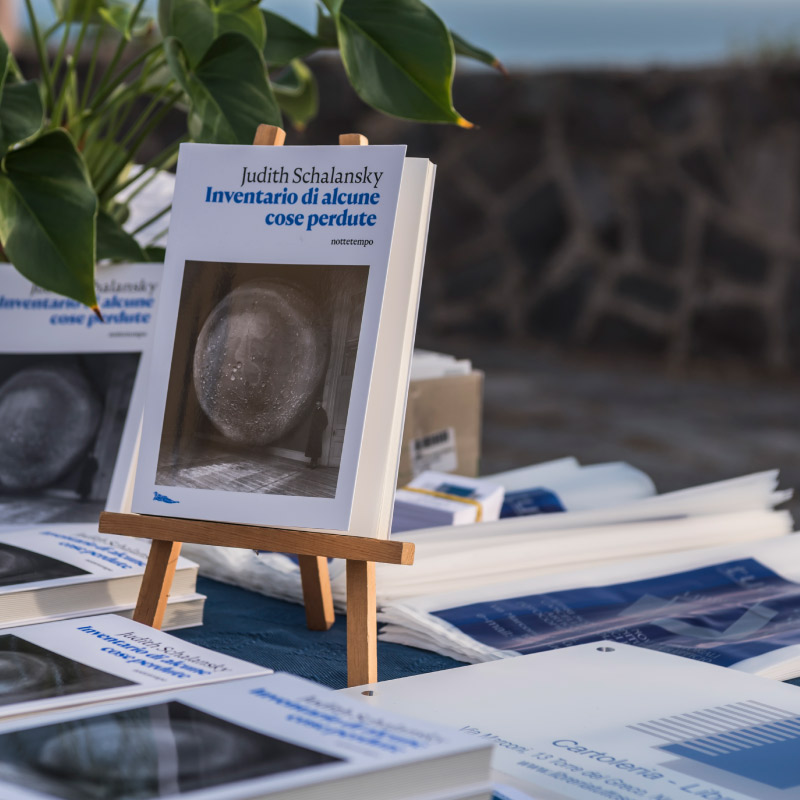 As a result, Racconti per Ricominciare 2022 will present to the Italian audience four German and Austrian works neither translated nor represented in Italy, thanks to Goethe-Institut Neapel and, as a new partner, Österreichischen Kulturforums Rom (Austrian Cultural Forum in Rome), directed by Georg Schnetzer.
Therefore, we are very glad to present, In the next edition of Racconti per Ricominciare Festival, May 26 – June 12 2022, we'll be glad to introduce to our audience the voices of Laura Naumann and Theresia Walser (Germany) and Thomas Köck and Robert Woelfl (Austria), all award-winning authors characterized by an extreme sensitivity which is able to give a multifaceted picture of contemporary Europe and which can offer important insights of our times.
Sabine Heymann. She is a cultural journalist, theater critic, translator and university professor. From 2001 to 2017 she was the managing director of the Zentrum für Medien und Interaktivität (ZMI) of the Justus-Liebig University of Gießen / Germany. After studying German and Roman Studies at the University of Gießen, she worked for 15 years as a cultural journalist and correspondent from Rome, among other things for the publications Theater heute, Frankfurter Rundschau and for the broadcasters Hessischer Rundfunk, WDR and Deutschlandfunk. In the nineties she was a member of the jury of the Ubu Award (Patalogo / Franco Quadri). Sabine Heymann translates dramas, fiction and non-fiction mainly from Italian, but also from French, Spanish and English. In thirty years she has translated almost a hundred Italian theatrical texts, including those by Stefano Massini, Emma Dante, Fausto Paravidino, Edoardo Erba, Fabrizio Sinisi, Enzo Moscato, Davide Carnevali, Emanuele Aldrovandi, Lina Prosa, Sarasole Notarbartolo. As a "connoisseur" of theater in Italy and China, she has collaborated in a great number of international festivals, research projects and conferences, at the Stückemarkt in Berlin and at the Biennale in Bonn and Wiesbaden. As a consultant, scout and editorial reader she works for several German publishing houses specializing in the theater. She is the author of scientific articles on Italian theater and co-editor of the volume Zeitgenössisches Theater in China (Alexander Verlag / Berlin 2017). She has lectured at various universities in Germany, Europe, the United States and China. She recently obtained the assignment from the Goethe-Institut of Naples to work in the research and selection of dramas for the international contemporary drama section of the theater festival Racconti per Ricominciare 2022.
The translation of Thomas Köck, Laura Naumann, Theresia Walser and Robert Woelfl was edited by Bice Rinaldi. Experienced interpreter, Bice Rinaldi pays the greatest attention to the process of meaning transfer between languages. Bice Rinaldi works in the field of German-language literature and was awarded the Italian-German Prize for Literary Translation in 2010, finalist in the "Premio Strega Ragazze e Ragazzi" in 2018 together with the author Jutta Richter. She has worked with the publishers Beisler, Fazi and Neri Pozza and boasts a long-standing collaboration with the Goethe-Institut.